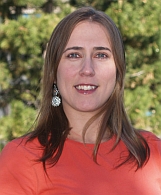 Christina Copple, DVM, DACVR
Board-Certified in Radiology

Dr. Christina Copple is a native of North Carolina where she has lived in Raleigh for the last 10 years. There, she attended North Carolina State University for her undergraduate and veterinary degrees. After veterinary school she did a year internship at Red Bank Veterinary Hospital in New Jersey. She then returned to NC where she completed her radiology residency at NCSU followed by a year there as a clinical instructor in the radiology department. As you can see, Dr. Copple is a proud member of the Wolf Pack! She achieved her status as a Diplomate in the American College of Veterinary Radiology in 2011. Her imaging interests include ultrasonography, radiology and computed tomography. In July of 2012 she relocated to Colorado to join Diagnostic Imaging as one of their newest associates. Her free time is filled with enjoying quality time with her husband, Andrew, keeping in touch with east coast family and friends, reading, hiking, knitting, tubing down Clear Creek (weather permitting), and seeing live music.